COVID-19 Update:
Our highest priority continues to be the health and well-being of everyone who comes into our restaurant and lounge. As we navigate the evolving impact of coronavirus on our communities and following our city ordinance, our partner, Chazz Restaurant is temporarily closing to help limit person-to-person contact. Thank you for your patience. We know these are challenging times, but we look forward to serving you again soon.
Chazz Palminteri Italian Restaurant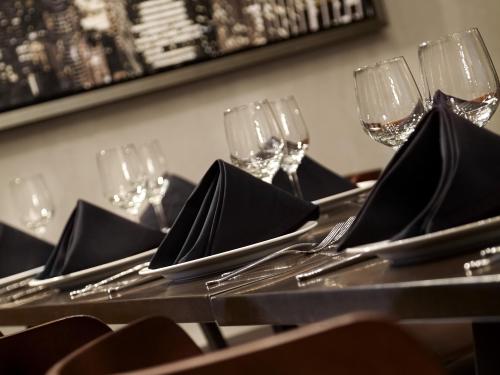 Cambria Hotel New York - Times Square hotel welcomes our exciting new dining options for our guests and other visitors to the city. Enjoy a meal at Chazz Palminteri Italian Restaurant located in the Cambria Hotel Times Square hotel.
About Chazz Palminteri Italian Restaurant
Our location at the Cambria Hotel (46th Street) allows theatergoers to pair a showing with a great meal. The new and improved location is not only accessible for New Yorkers and better suited for Chazz's connection to the entertainment world. Along with our main dining room, we offer outdoor spaces (20 seats in the front and 25 in the back), and our bar and lounge.
Chazz's design team has created a dining room and lounge that capture the nostalgic feel associated with homestyle Italian cuisine. Menus remain largely the same, with classic Italian dishes such as Grilled Calamari, Pappardelle with Ragu, Linguini alla Vongole and Vitello Tre Funghi. The restaurant also offers a brand-new bar menu to fit the expanded lounge area along with two new dishes and drinks in the main dining room. The new dishes include a classic plate of Spaghetti and Meatballs and Tagliatelle con Quattro Formaggi. A large bottled wine list focuses on Italian selections and the beverage list offers local craft beers and cocktails made with Palminteri's own BIVI vodka--the first Sicilian vodka. Newcomers to the cocktail list include a Broadway Martini and The West Side, Chazz's take on the classic Manhattan.
The restaurant also offers a private party area for you to host your next social event with a dedicated staff by your side.
Hours
Lunch:
Dinner:
Sunday - Thursday 4:00 pm - 10:30 pm
Friday - Saturday 4:00 pm - 11:00 pm
Prix Fixe Lunch:
Monday - Friday 11:30 am - 3:30 pm
Saturday - Sunday 11:30 am - 3:00 pm
Private Parties
Our private party room is spacious and well-appointed, accommodating up to 160 guests. Allow our expertise in cuisine and service to ensure your event is sophisticated and memorable.
Let us customize a menu to suit your needs--from passed hors-d'oeuvres, buffet or a sit-down dinner.
Please call 212-704-9700 for more details.